​New Yorkers Win Unprecedented $59M Settlement Against Debt Collection Network
New Economy Project and co-counsel have settled a groundbreaking class action lawsuit, filed on behalf of low-income New Yorkers defrauded by a major debt collection network. The settlement is expected to benefit more than 353,000 New Yorkers, providing monetary relief and the unprecedented vacating of almost 200,000 court judgments.
Coming on the heels of major policy changes that New Economy Project and allies have won in New York State, the settlement helps bring an end to discriminatory and abusive debt collection that has harmed low-income New Yorkers of color, in particular. We congratulate all the plaintiffs, many of whom initially sought legal assistance through our NYC Financial Justice Hotline, and send a huge shout out to our co-counsel at MFY Legal Services and Emery Celli Brinckerhoff & Abady LLC.
​
New Economy Project client and lead plaintiff Rea V. speaks out on NY1's Inside City Hall. Watch segment here. ​
---
NYC's Employment Credit Checks Ban Takes Effect
New York has become a more equitable city for job seekers. Thanks to a hard-fought campaign by New Economy Project and allies, NYC has enacted the strongest employment credit checks ban in the country. Employers in NYC are now barred from discriminating against job applicants or employees on the basis of credit history – a practice that unfairly blocks lower income New Yorkers and people of color from equal job opportunity. New Economy Project led the coalition that won this landmark labor and civil rights law, and we look forward to working with the City to ensure strong enforcement.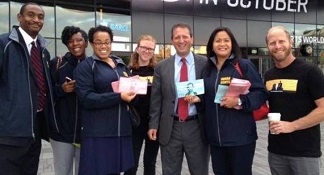 ​
New Economy Project, NYC Human Rights Commission, Council Member Brad Lander spread the word about NYC's new law.​
---
New Economy Loan Fund Invests in Worker Co-ops
Did you know that New Economy Project supports worker cooperatives and other community-led economic development? Through our New Economy Loan Fund, we were pleased to make a recent loan to Sunrise, a collective of auto repair workers displaced from Willets Point, Queens. Our loan supports Sunrise as it moves to a new shared location in the South Bronx, where the co-op will launch a first-of-its-kind, one-stop shop for auto parts and repairs.
---
A Fond Farewell

Please join us in bidding a fond farewell to Josh Zinner, co-director since 2008, as he moves on this month to become CEO of Interfaith Center for Corporate Responsibility. New Economy's board and staff thank Josh for his zeal, good humor and tremendous contributions to the field. We will miss Josh, but have no doubt that he will continue to make his mark and effectively advocate for economic justice in his new role. We wish him all the best!